THE IDEA OF RE-USING MATERIALS HAS MADE THE TRANSPORTATIONAL MATERAL "TARA'' A POPULAR CHOICE USED BY MODERN ARCHITECTS!
Containers for cargo transportation have long been a soft spot for architects. Since the beginning of the 2000s, intriguing projects have started to appear in different countries, in which containers are not in the role of something unusual, but are seen as an economic tool. It has been know for long that their practical benefit and personal benefit contribute to the protection of the environment. The fashion for upcycling (turning old materials into new ones) in architecture has become a process that has created a field, called cargotecture.
In this article, we have gathered the brightest examples: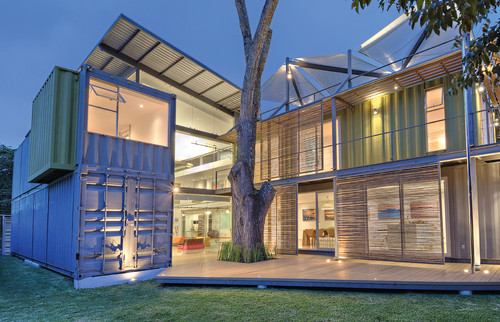 House around a tree in Costa Rica
Assemble together eight transport containers and you already have a home of 340 square meters in total, including several terraces and a cozy patio! Everything in this home is subjected to the idea of environmental protection and taking care of nature. Instead of air conditioning, there is integrated ventilation and movable bamboo panels; instead of electricity grids - solar energy is used. Even rainwater is collected in special tanks, filtered and used in the smoothed-out areas. The construction of the house is built around an old cedar as if protecting it from human assault.
Giant House in Australia
This Brisbane cargo container home has a well-deserved name - The Australian Champion. The house includes 31 containers - three floors, nearly 700 square meters and construction spanning three months. There is also a huge courtyard, swimming pool and a large drawing in graffiti style on the facade. The house's design is dominated by clean lines with plenty of space in it; the presented materials are glass and wood.
Home, made of containers in Denmark
A family from a town near Copenhagen built up this home in order to save money. Because of the cold climate in the country, their home has a thermal isolation. In order to have as much natural light as possible penetrating into the interior, two rows of windows are provided.
Industrial-style house in Japan
This is a project for a man whose hobby is collecting motorcycles. He did not have enough space for all the vehicles and he suggested the architects to design a space, made of cargo containers. The first floor consists of three containers, which include a bedroom, a kitchen, a bathroom and a garage. The second floor includes four freight containers, featuring a gaming room, a cinema, audio systems, and so on.
White House in Spain
This home has been assembled from four large containers placed on a stable base. Inside, the walls of the containers are insulated and painted with white paint - a typical design decision in Spain that is meant to protect the house from the summer heat. The most pleasant thing is that any one of these container houses can be disassembled and transported elsewhere easily and quickly.
Summerhouse in the USA
This cottage made of cargo containers is designed as a family holiday house in Colorado. On the facade we can see one large and six smaller containers. The metal is engraved with wood, and the door openings have been turned into large windows. This house has two bedrooms, two bathrooms, a kitchen with a living room and a huge deck terrace.
New business
There are many companies whose object of work is to assemble container houses. Similarly, a German firm specializes in designing elongated container houses. According to experts in the company, the larger the area is, the cheaper the construction will be. A project for a 300-square-meter cargo container house, according to them, yields about 30% more savings compared to a house built using traditional building materials.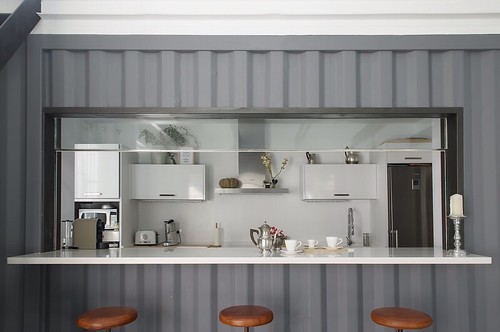 For its part, one American company not only sells cargo containers, but also designs modular houses, offices, kiosks, and hotels. For example, one of their projects is a residential building consisting of six apartments per floor, including a bedroom, a bathroom and a wardrobe. Each floor has a shared kitchen and a guest room, and the stairs between the floors are made of processed polycarbonate.
And here's how a modular office made of freight containers looks like.
Container Houses- a very active sector in Europe. Currently, not only residential buildings but also administrative buildings, student dormitories, kindergartens and refugee camps are being built using this method.
An intriguing trend, right?